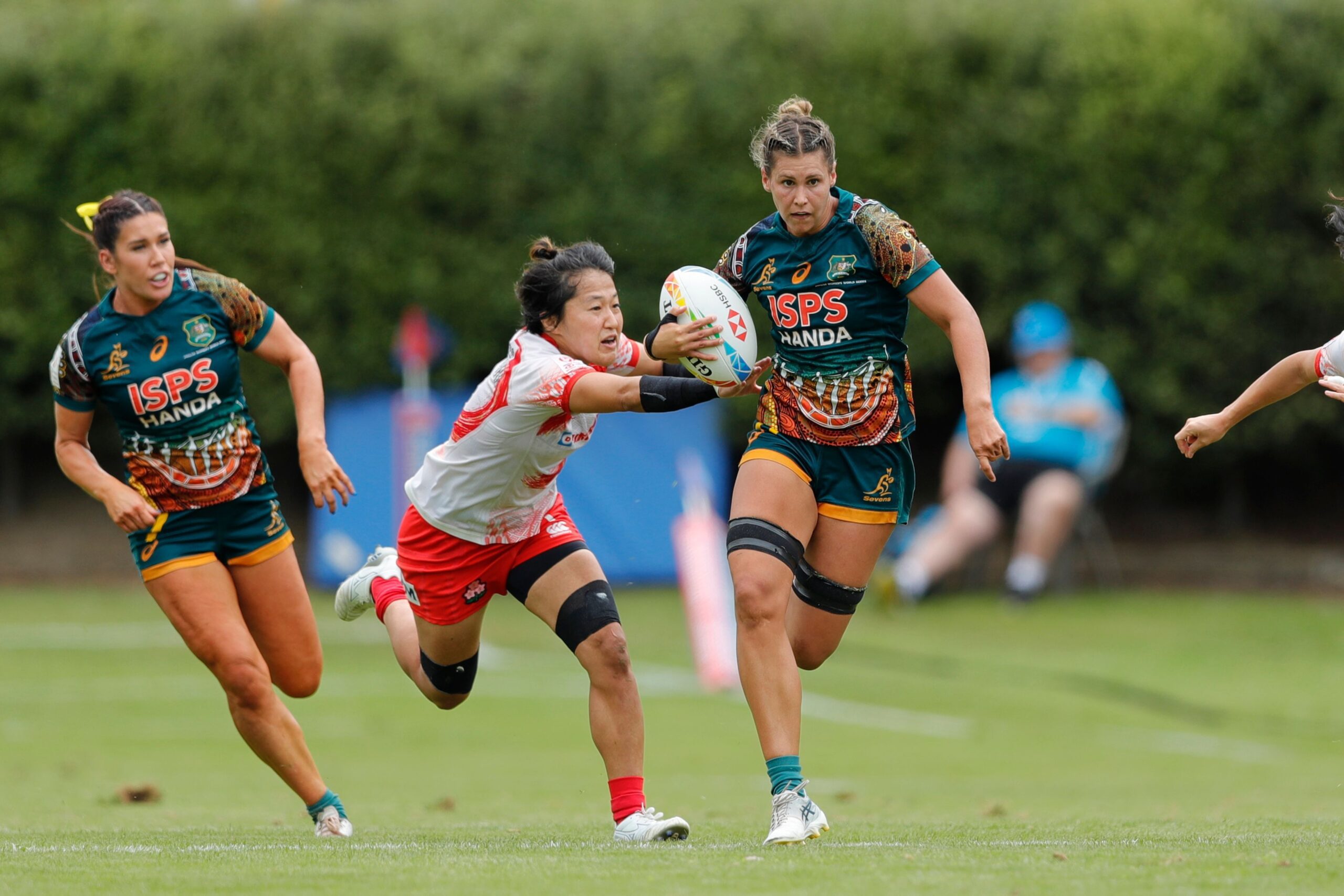 Highlights | New Zealand Sevens | Day 1
(via World Rugby)
Australia, New Zealand and USA women, and Fiji, New Zealand and South Africa men end day one of the HSBC New Zealand Sevens with perfect win records
Women's quarter-finals: Australia v Great Britain, USA v Fiji, France v Ireland, New Zealand v Japan
Men's quarter-finals: South Africa v France, Fiji v Argentina, USA v Australia, New Zealand v Ireland
Tournament concludes on Sunday with quarter-finals kicking off the action at 09:30 local time (GMT+13) and the cup finals at 19:26
Most competitive Series in history with Paris 2024 Olympic qualification the prize for top four ranked teams
Australia, New Zealand and USA women, and Fiji, New Zealand and South Africa men end day one of the HSBC New Zealand Sevens with perfect win records.
The HSBC World Rugby Sevens Series 2023 returned to action as Australia, New Zealand and USA's women, and Fiji, New Zealand and South Africa's men claimed perfect win records on a sun soaked first day at the HSBC New Zealand Sevens in Hamilton.
The Black Ferns Sevens and All Blacks Sevens were in inspired form on home soil, claiming a hat-trick of victories each to top their pools and secure their places in Sunday's quarter-finals.
The women's quarter-finals kick off day two at 09:30 local time (GMT+13) when fans can look forward to Australia v Great Britain, USA v Fiji, France v Ireland and New Zealand v Japan.
The men's quarter-finals begin at 10:58 and the line-up sees South Africa v France, Fiji v Argentina, USA v Australia and New Zealand v Ireland.
New Zealand's Olympic champion women began with a 58-0 thrashing of Papua New Guinea – their biggest ever Series win – which included a hat-trick for Rugby World Cup winner Stacey Fluhler on her return to rugby sevens action.
The Black Ferns Sevens followed up with a 27-0 win against Olympic bronze medallists Fiji and wrapped up the day with a 20-0 victory over Great Britain to top Pool A without conceding a point. Fiji claimed an important 19-14 win over Great Britain to secure the second spot in the pool and a place in the quarter-finals.
World Series title holders and current leaders Australia will be looking to spoil the party on Sunday and they secured their progress to the quarter-finals from Pool B courtesy of wins over Japan (26-14), Canada (33-7) and France (43-0). France claimed second place in the pool with victory over Japan and a draw with Canada, who were beaten 17-7 by Japan, their first-ever Series victory over Canada and enough to reach the quarter-finals.
USA's women have reached the podium to claim bronze medals at both rounds of the 2023 Series so far and were in fine form again in Hamilton, beating Spain (31-12) with a first Series hat-trick from Cheta Emba, Brazil (41-0) and Ireland (15-7) to top Pool C. Ireland finished second thanks to wins over Spain and Brazil.
The All Blacks Sevens began with a convincing 45-0 win over Tonga, before a hard-fought 21-19 victory over rivals Australia and finished the day with a flourish overcoming Great Britain 19-12 to take top spot in Pool B. Australia claimed second place with invitational team Tonga in third following the surprise result of the day when they ended a 16-game losing streak, overcoming a 14 point half time deficit to beat Great Britain 26-21.
Fiji were cheered on by a large, colourful and vocal contingent in the crowd and did not disappoint their fans. The double Olympic champions got off to a flying start in Pool A with a 26-10 win over France in the second match of the day, before a 21-7 victory in a fierce encounter with Kenya and an outstanding 22-12 win against current Series leaders Samoa.
Following their gold medal triumph at the previous round in Cape Town, Samoa will be disappointed to miss out on a place in the quarter-finals in Hamilton after they were defeated 21-10 by France in an eventful match which involved one red and three yellow cards.
South Africa were the form team in Pool D with three straight victories over Canada (34-5), Spain (19-12) and Argentina (17-14) to top the pool. Argentina secured wins against Canada (29-14) and Spain (20-5) with former HSBC World Rugby Sevens Player of the Year Marcos Moneta back in action and back on the scoresheet.
USA and Ireland qualified for the quarter-finals from a closely contested Pool C after beating Japan and Uruguay and playing out an entertaining 14-14 draw. Japan are currently in the automatic relegation position and will take encouragement after claiming their first pool match victory of the Series with a 24-19 win over newly promoted Uruguay.
The 2023 Series is shaping up to be the most competitive in history with the prize of Olympic Games Paris 2024 qualification on offer for the top four women's and men's teams in the 2023 Series standings, while hosts France have pre-qualified for next summer's pinnacle event in the nation's capital.
The Men's Series has seen eight different teams reach the Cup semi-final stage, with all eight teams medalling across the first three tournaments. There have been three different gold medal winners (Australia, Samoa and South Africa), three different silver medallists (Fiji, Ireland and New Zealand), and three different bronze medal winners (France, New Zealand and USA). Only New Zealand have medalled twice, while Samoa, South Africa and USA have made the semi-finals twice.
The Women's Series has only seen two tournaments, compared to three for the men, but five different teams have reached the Cup Semi-Final stage. Only three teams have medalled so far, with Australia and New Zealand claiming one gold each. USA have won both bronze medal matches.
The stakes couldn't be higher at the bottom end of the men's Series this season as well. Following the penultimate event in Toulouse, the 15th ranked team will be relegated to the 2024 Sevens Challenger Series while the 12th through 14th ranked teams will face off against the Sevens Challenger Series 2023 winner for the 12th and final position on the 2024 Series.
The finals day action begins at 09:30 local time (GMT+13) on Sunday, with the Cup quarter-finals and the event will conclude with the women's final at 19:26 and the men's final at 19:56.
Having been on New Zealand's sporting calendar for more than two decades, this year the tournament has seen the addition of a second playing field next to FMG Stadium Waikato to enable the full men's and women's draws to be played over two action-packed days of thrilling world class rugby sevens.
Remaining tickets are available here.
Rugby sevens fans around the world can watch the action via live stream on World Rugby digital platforms including www.world.rugby, You Tube and Facebook in countries where there is no national broadcaster covering the event.
Quick Links
VIEW WOMEN'S SERIES STANDINGS >>
VIEW MEN'S SERIES STANDINGS >>
VIEW MEN'S RESULTS AND POOLS >>