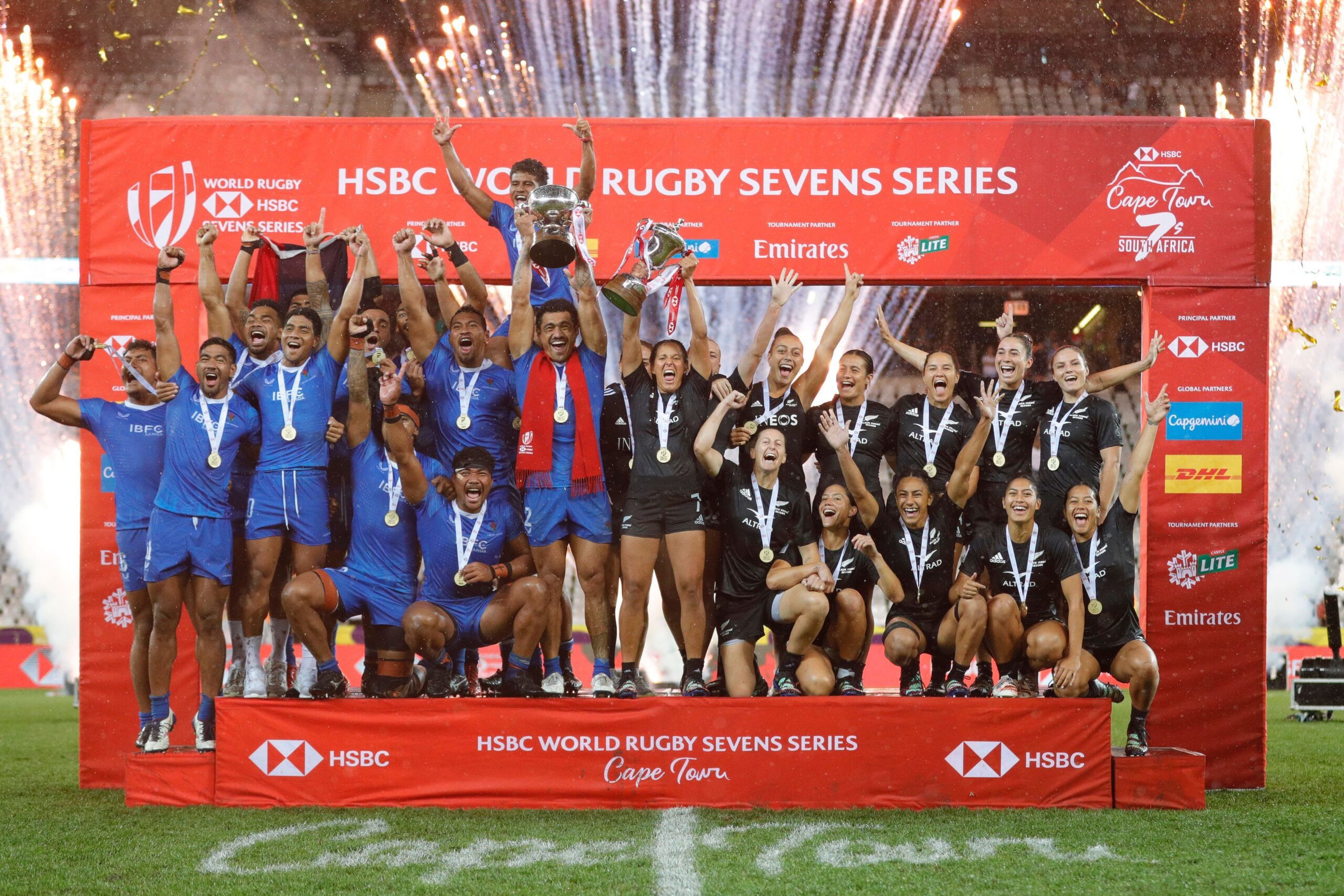 HIGHLIGHTS | HSBC Cape Town Sevens | Day 3
(via World Rugby)
After three days of HSBC World Rugby Sevens Series action in Cape Town, Samoa's men and New Zealand's women ended the event – and 2022 – in style.
Samoa's men put in a brilliant performance to defeat New Zealand 12-7 in a closely fought Cup final to claim their first Series title since Paris in 2016.
Samoa and South Africa on 47 points now lead the standings after three events heading into 2023, USA and New Zealand next on 44 points.
Tyla Nathan-Wong was the catalyst for New Zealand as they won the women's event.
Australia had beaten them in the Dubai Cup final the week before, but in this week's final New Zealand dominated from early on and came out on top 31-14.
Australia and New Zealand now lead the standings on 38 points after two events heading into 2023, USA are third on 32 points.
SAMOA EDGE HARD FOUGH MEN'S CUP FINAL
By the time the men's Cup final was played, the rain really was coming down heavily, so credit to both Samoa and New Zealand's players for putting on a show.
The Samoans took a slender 5-0 lead into the second half thanks to an unconverted try by Faafoi Falaniko after six minutes.
Two minutes into the second half Brady Rush found some space and scored for New Zealand and when Tepaea Savage converted they were 7-5 up.
Samoa were not done though and a try from Vaa Apelu Maliko converted by Falaniko got them over the line 12-7.
NEW ZEALAND DOMINATE IN WOMEN'S CUP FINAL
New Zealand came out of the blocks firing and went 7-0 up early on in the women's Cup final with the rain falling.
Shiray Kaka was the try scorer with Tyla Nathan-Wong converting and things got better for them when the latter scored a try and added the extras again to make it 14-0.
When Nathan Wong added another try and a conversion before the break it was 21-0 with seven minutes remaining.
Michaela Blyde and Kelly Brazier scored further tries for New Zealand with Madison Ashby and Demi Hayes getting consolations for Australia.
The final score was 31-14.
USA FINISH THIRD IN MEN'S EVENT 
Marcus Tupuola, Malacchi Esdale and Joe Schroeder scored unconverted tries to a converted one from Siviwe Soyizwapi to give USA a 15-7 half-time lead in the men's bronze medal match versus South Africa.
Faitala Talapusi's converted try in the early part of the second period stretched the USA lead to 22-7, meaning that Dalvon Blood's converted effort was just a consolation for the hosts as the Americans won by eight points 22-14.
USA TAKE WOMEN'S BRONZE
USA went 10-0 up in the women's bronze medal match thanks to tries from Sammy Sullivan and Ilona Maher.
Ireland came roaring back through two tries of their own from Beibhinn Parsons and Stacey Flood and when Lucy Mulhall converted they were 12-10 up with three or so minutes to go.
Having won the bronze in Dubai, this USA squad are made of stern stuff though and further five pointers from Sullivan and Naya Tapper saw them win 20-12 and take third spot again.
SOUTH AFRICA EDGED OUT IN MEN'S CUP SEMIS
New Zealand were too strong for USA in the first men's Cup semi-final, Akuila Rokolisoa (2), Sam Dickson, Roderick Solo and Tepaea Savage scoring tries as they came out on top 33-17.
A late try by Ryan Oosthuizen which was converted by Ricardo Duarttee put home favourites South Africa level with Samoa at 7-7 in the second semi.
There was even later drama though when Faafoi Falaniko kicked a penalty to win it 10-7 for Samoa and silence the home crowd.
Samoa's earlier converted try had come from Vaovasa Afa Sua.
IRELAND EDGED OUT IN WOMEN'S CUP SEMIS
Tries from Tyla Nathan-Wong and Michaela Blyde, both converted by Wong, had New Zealand 12-0 up at half-time over Ireland in the first women's Cup semi-final.
Amee Leigh Murphy Crowe, who had a brilliant tournament, scored a try converted by Lucy Mulhall in the second half for the Irish, but New Zealand held on to advance to the final 14-7.
In the second semi, Australia were just too strong for USA and won 33-12.
Charlotte Caslick, Maddison Levi (3) and Dominique du Toit were the try scorers for the victors.
The HSBC World Rugby Sevens Series takes a festive break before returning in Hamilton, New Zealand on 21-22 January and Sydney, Australia on 27-29 January as the race of Series glory and Paris 2024 Olympic qualification continues.
Quick Links