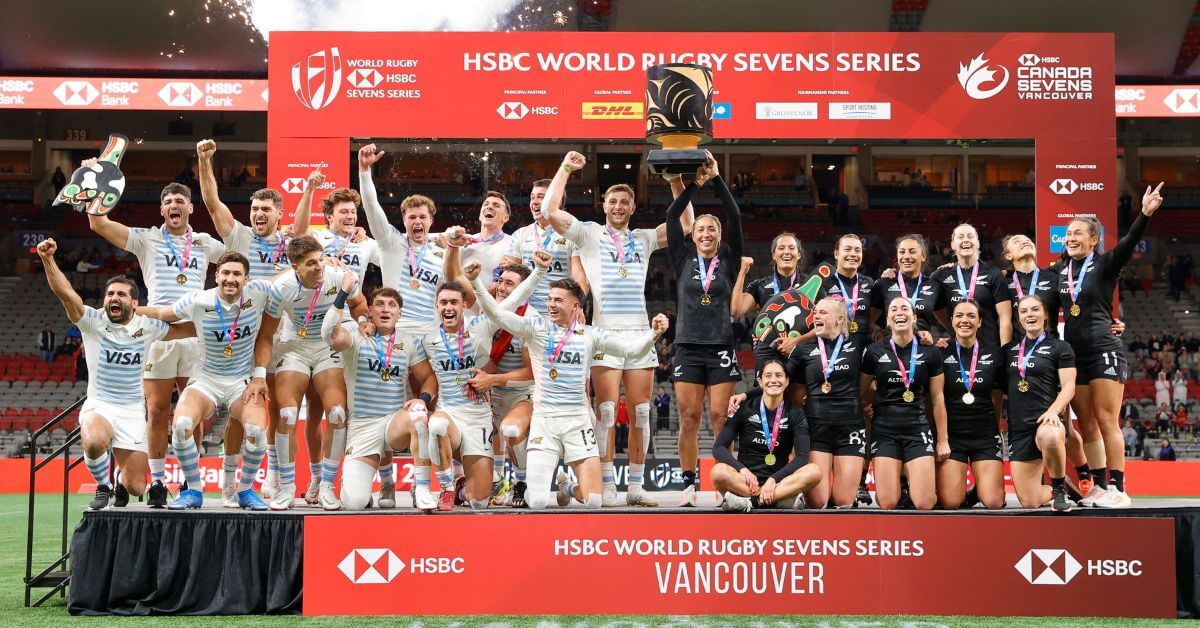 HIGHLIGHTS | HSBC Canada Sevens 2023 | Day 3
New Zealand and Argentina emerged as the champions in the HSBC World Rugby Sevens Series, held in Vancouver, after a thrilling final day of competition.
Argentinas men's team, also known as Los Pumas Sevens, secured their second cup title of the season, and their second consecutive win at BC Place after claiming victory in the 2022 event.
Meanwhile, the New Zealand women's team, the Black Ferns, avenged their defeat to Australia at last year's HSBC Canada Sevens tournament in Langford, Vancouver Island.
Another top performance by the Black Ferns
The Black Ferns claimed their fourth consecutive tournament win of the season, marking their 24th consecutive victory.
With this win, they became the first women's team to officially book their ticket to the 2024 Paris Olympics.
The New Zealand women's team will join France, who have automatically qualified as hosts.
In the bronze medal matches, the USA women and the Australian men defeated France and Ireland, respectively, to finish on the podium and earn valuable Series points.
Australias men's team improved on their Los Angeles performance by one place, with Henry Paterson scoring early in the game against Ireland.
The stakes are high in the 2023 Series, which is the most competitive in history. The top four women's and men's teams in the 2023 Series standings will qualify for the Paris Olympics, while hosts France have already pre-qualified.
At the bottom end of the men's Series is also fiercely contested, with the 15th-ranked team to be relegated to the 2024 Sevens Challenger Series, and the 12th through 14th ranked teams set to face off against the Sevens Challenger Series 2023 winner for the 12th and final position on the 2024 Series.
After a three-week break, the men's and women's teams will return to compete in the next round of the HSBC World Rugby Sevens Series in Hong Kong on 31 March to 1 April, with the pools already confirmed.
Quick Links
VIEW WOMEN'S MATCH SCHEDULE >>